Assalamualaikum..
haa..haa.. 2 nape asyik pndg jam 2?? lmbat ag la.. ilex la.. dh half day ni.. sabo ye sahabat.. smbil2 2, meh la tgk gmbar mknn yg menggoda jiwo.. hehehe.. tgk ni..
bbq..yummy yummy..
steambot
dh tgk iqram dinzly dlm jjcm, suke lak nk tgk tomyam poktek ni..

hwaaa.. sgt menyelerakan hokeyyy.. aduiii.. so, ape kate kt intai intai kat mane kt leh berbuke buffet bersama family ataupon teman..
Ramadhan "Iftar" Buffet
Date : 23 July – 16 August 2012
Time :
Mon – Thu, 17.00 – 22.30
Fri – Sat, 17.00 – 22.00
Sunday, CLOSED
Price :
RM 28.50 nett per adult
RM 22.80 nett per senior citizen (age 65 and above)
RM 12.00 nett per child (age 4-11 years)
FREE child (age 3 and below)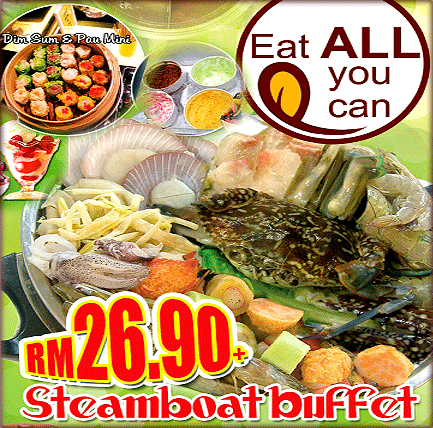 Flaming Steamboat Buffet
Business Hours:
5pm to 12 midnight everyday
Buffet Food Type:
Up to
150 Items


Steamboat Buffet
Inclusive:
Ice-Cream
Chocolate Fondue
Free - Flow Drinks
Ice Kacang
Soup Base:
Tomyam & Chicken Soup
Price:
Adult :
RM 26.90+



Children :

RM 9.90+


(4 to 10 years old)

Children : FREE
(3 years old & Below)

All Price Subject to 5% Service Charge



Ramadhan Buffet @ Souled Out
Date: From 22nd July 2012
Time: 7pm onwards (Sundays – Thursdays)
Price:
Adult - RM48++
Child - RM30++



sebenarnye byk lagi.. boleh tgk kt sini.. yg sy suggest ni yg sy sgt2 berminat la.. huhuhu.. x saba nk buke.. x saba nk buke.. x saba buke.. eppss! ape ni.. ok.. dh x larat thn air liur dh ni.. tatata..